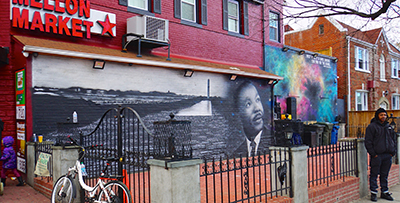 Mayor Bowser established the Resilient DC initiative to build DC's resilience to both catastrophic shocks and chronic stresses in order to ensure that DC thrives in the face of change. This includes the ability to withstand any natural or man-made challenges that threaten our communities and tackle the social challenges that come with being a fast-growing city.
In 2016, Washington, DC was selected from more than 1,000 cities around the world to become part of the 100 Resilient Cities (100RC) network, along with cities like Paris, New York, Bangkok, and Buenos Aires. As part of the 100RC network, the city receives technical and financial support to develop and implement a resilience strategy for handling natural and manmade challenges. DC's resilience strategy will be a holistic, action-oriented plan to build partnerships and alliances as well as financing mechanisms, and will pay particular attention to meeting the needs of vulnerable populations.
Resilient DC Fact Sheet [PDF]
The Resilient DC work is led by a team within the Executive Office of the Mayor, reporting to the City Administrator. The work is guided by Mayor Bowser's Resilience Cabinet in consultation with the Commission on Climate Change and Resiliency.
Kevin J. Bush, Chief Resilience Officer
As DC's first Chief Resilience Officer, Bush leads citywide efforts to build resilience to shocks and stresses and oversee the development and implementation of a comprehensive Resilience Strategy. Bush has extensive experience building coalitions to design and execute award-winning resilience initiatives, including: Rebuild by Design, the National Disaster Resilience Competition, and the Multifamily Better Buildings Challenge. He previously led efforts at the U.S. Department of Housing and Urban Development to plan for the impact of climate change. Bush also served on President Obama's Hurricane Sandy Rebuilding Task Force and at the White House Council on Environmental Quality. He has also been both a Presidential Management Fellow and City of Chicago Mayoral Fellow. Bush is a widely recognized expert in urban resilience, climate change mitigation and adaptation, disaster recovery, affordable housing, and infrastructure. Bush holds a Masters of Urban Planning from the University of Michigan and a Bachelors of Arts in Business from Michigan State University.
Harrison Newton, Deputy Chief Resilience Officer
Harrison Newton helped lead the development of the District's application to the 100 Resilient Cities network and has a strong history of developing programs that work across boundaries to make residents more resilient. Prior to becoming the Deputy Chief Resilience Officer, he led efforts to modernize and develop strategic priorities for programs that help thousands of DC residents control their energy costs. He also served as chief of an environmental health-focused branch, creating the award-winning "Partnership for Healthy Homes." The Partnership improves the condition of hundreds of DC residents' homes every year by linking healthcare providers, legal support organizations and social service networks to innovative approaches in hazard remediation. Earlier in his career in public service, Newton directed a suite of public health programs in multiple cities along the East Coast, focusing on protecting at-risk populations and preparing clinics for disaster response. Newton holds a Masters of Public Health form Drexel University.
Ayana L. Rockett, Public Affairs Manager
Ayana Rockett has over fifteen years of cross-sector experience spanning public service functions within nonprofits and within the offices of elected officials in the District of Columbia and New York City. Most recently, she has served in the Office of the City's Administrator, providing critical analyses and evaluation of programs and activities across agencies clustered under the Deputy Mayor of Planning and Economic Development, the Deputy Mayor of Education, and the Deputy Mayor for Greater Economic Opportunity. As the Public Affairs Manager for Resilient DC, her primary responsibilities are to advise the Chief Resilience Officer on public affairs issues, and to develop, execute and evaluate communication plans and stakeholder engagement strategies for the office.
Ayana is a native Washingtonian and she is bilingual. She holds a B.A. in Metropolitan Studies and Latin American Literature from New York University, and a Masters in Urban Policy Analysis and Management from The New School.
Rashad Young (City Administrator, Executive Office of the Mayor)
Kevin Donahue (Deputy City Administrator and Deputy Mayor for Public Safety and Justice, Executive Office of the Mayor)
Wayne Turnage (Interim Deputy Mayor for Health and Human Services, Executive Office of the Mayor)
Brenda Donald (Interim Deputy Mayor for Greater Economic Opportunity, Executive Office of the Mayor)
Delano Hunter (Interim Director, Department of Parks and Recreation)
Kevin Bush (Chief Resilience Officer, Executive Office of the Mayor)
Unique Hughes (Director, Department of Employment Services)
Polly Donaldson (Director, Department of Housing and Community Development)
Keith Anderson (Acting Director, Department of General Services)
Jeff Marootian (Director, Department of Transportation)
Dr. LaQuandra Nesbitt (Director, Department of Health)
Jenny Reed (Director, Office of Budget and Performance Management)
Chris Rodriguez (Director, Homeland Security and Emergency Management Agency)
Jed Ross (Chief Risk Officer, Office of Risk management)
Andrew Trueblood (Interim Director, Office of Planning)
Lindsey Parker (Acting Chief Technology Officer, Office of the Chief Technology Officer)
Tommy Wells (Director, Department of Energy and Environment)
Kevin Clinton, Chair
Uwe Brandes
Ronda Chapman
Jim Dougherty
Alan Etter
Aleksandra George
Thomas Hampton
Maureen Holman
Anthony Kane
Sandra Knight
Melissa Lavinson
Stephen Moore
Molly Rauch
Jason Turner
Kathryn Zyla